How we create • together at interGen
From social media to measuring performance to simply managing your website, there are a lot of details to cover. InterGen operates on the idea that your website, your social media, and your data are yours. Our job is to make sure that you are getting the most out of your digital resources in the easiest, most convenient way possible. Helping people, businesses, organizations, and communities move forward together is an exciting endeavor that fuels us. Beyond just programming your website, our passion can move your business forward.

Here's what we're passionate about right now...
---
Written by

Kristin Bird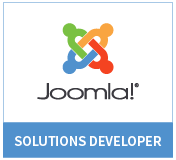 interGen LOVES Joomla!
Joomla is our primary website development platform. It is an award-winning content management system (CMS), which enables you to build websites and powerful online applications. Many aspects, including its ease-of-use and extensibility, have made Joomla the most popular community-based website development platform on the planet. Best of all, Joomla is an open source solution that is freely available to everyone.